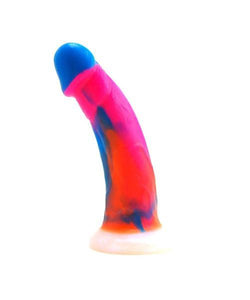 Vixen Vix Art Mustang Bright Multi-Color Dildo
Regular price $145.00 Sale
From its base to its tip, this dildo is crafted with the unparalleled Vixskin silicone that feels almost otherworldly. It's the perfect companion for g-spot or p-spot stimulation, catering to both beginners and seasoned dildo enthusiasts alike. Prepare to embark on a delightful journey with its realistic outer layer and firm yet flexible core.
The Mustang's round flat base not only enhances solo pleasure but also allows for versatile harness play. With special touches along the shaft, this dildo adds a touch of realism to your intimate encounters.
At the forefront of the dildo market, the Mustang features an exclusive silicone formula that sets VixSkin apart. It is meticulously crafted from the safest, non-toxic 100% Platinum silicone, ensuring a durable and luxurious toy that will not break down or degrade over time. Experience the delightful sensation of warmth as the Mustang retains your body heat for added comfort.
Cleaning is a breeze with its non-porous surface, as you can simply use soap and water or sterilize it by boiling for 3 minutes. The non-slip base ensures a secure fit with a harness, giving you complete control during your play sessions. The solid inner core ensures functionality while delivering the utmost pleasure.
Rest easy knowing that the Mustang is not only hygienic but also easy to maintain. It can be safely sterilized by boiling or tossed in the dishwasher for convenience. Handcrafted and designed by Vixen Creations in San Francisco, this dildo showcases the utmost dedication to quality and craftsmanship.
Measuring at 7 inches in length, with an insertable length of 6.5 inches and a satisfying circumference of 5 inches, the Mustang is perfectly sized to fulfill your desires.
Elevate your pleasure with the Vixen Vix Art Mustang Dildo, a masterpiece in sensual exploration with its lifelike texture, superb materials, and exceptional design.