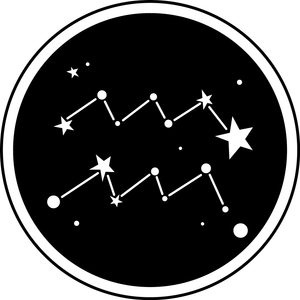 The Zodiac Box: Aquarius
Regular price $70.00 Sale
The Zodiac Box is the original, one-of-a-kind gift box that features sex toys for each astrology sign. We consulted with tarot and astrology expert Katie McGuire to curate this box based on the sensual, intimate and romantic traits for every sign. These products - which include a mix of accessories and sex toys, have been thoughtfully curated to invoke a unique sensory journey for the mind and body. 
Aquarius: January 20- February 18
Element: Air
Ruled by: Uranus

Aquarius has the expert lover vibe surrounding them, so step back and enjoy the party. The Aquarius is forward thinking, but also stubborn nature which can make them very intense lovers. But you can be sure of them knowing exactly what you like. Communication is key and much of what Aquarius loves is making sure their partner enjoys themselves. Aquarius alone time is used exploring a deeper connection with themselves so when the right person comes along they can tell them exactly what they like.

Top Qualities:
Forward thinking
Generous
Deep connection
Enjoy experimentation
Not afraid of using toys to get the job done
Please allow 10-12 days for shipping.