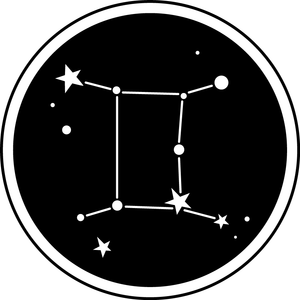 The Zodiac Box: Gemini
Regular price $70.00 Sale
The Zodiac Box is a one-of-a-kind gift box that features sex toys for every astrological sign. We consulted with tarot and astrology expert Katie McGuire to curate this eclectic set of items, based on the romantic and sexual traits for Gemini. Products include a mix of mystical accessories and body-safe pleasure products curated with intention to invoke a head-to-toe sensory experience for mind and body. 
Gemini: May 22 - June 22
Element: Air
Ruled by: Mercury

Gemini is the dreamer of dreams - so if you have a fantasy, prepare to experience it in real life. They are the perpetual child of the zodiac with an aversion to 'growing up', wile somehow retaining an air of innocence. Geminis are all about fun, fantasy and lots of talking! Most Geminis like to keep things interesting, and never think they're too old or mature to try anything a bit out of the ordinary.

Top Qualities:
Variety
Excitement
Escapism
Fantasy
They love trying new things; can get bored easily
Please allow 10-12 days for shipping.