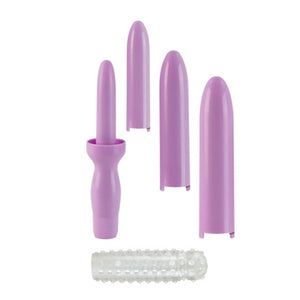 Vibrating 5-Piece Dilator Kit (4 Sizes + 1 Textured Pleasure Sleeve)
Regular price $30.00 Sale
This vibrating dilator kit includes a multitude of girths/sizes, allowing you to train your pelvic muscles as you go. The vibrations are controlled by the multi-speed handle, with intensity ranging from gentle to very powerful. Each dilator sleeve has an easy-to-use interlocking feature that secures them to the vibrating handle. 
The tip of each sleeve may also be used externally for clitoral stimulation. Since the base is designed with a wide handle, these kits may also be used for anal training in order to work up to larger sized anal toys. This kit is versatile for beginners and well-seasoned sex toy users alike. 
Vaginal dilators are used to provide stimulation of natural lubrication, blood flow, and relaxed sexual pleasure. Additionally, a dilator may help with the following:
Muscle atrophy
Pain and/or discomfort during intercourse
Anxiety associated with vaginal penetration
Added comfort during sexual reassignment 
Each purple dilator sleeve is crafted from waterproof ABS plastic.
Flexible textured sleeve is made from phthalate-free TPR (thermoplastic rubber)
Operated by 2 AAA batteries (not included)
Compatible with water-based and silicone-based lubricants. 
Measurements: 
Universal dilator sleeve: 4.5"x 1.5"
Small dilator sleeve: 3.5"x .75"
Medium dilator sleeve: 4.5"x 1"
Large dilator sleeve: 6.75"x 1.5" 
For more information on how to use your dilator, check out this video.