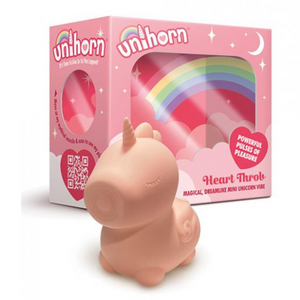 Unihorn Heart Throb - Pink Silicone Unicorn Pulsating Vibrator
Regular price $50.00 Sale
Open the realm of fantasy with Heart Throb's perfectly smooth, soft coat and its magically-engineered pulsating mouth. The rounded mouth sends light to intense throbbing pulsations in tandem with powerful vibration. (Control the functions independently!)
A few circular swipes across the nipples, tapping strokes on the clit, or light pressure on the taint...there are so many ways you can use Heart Throb Unicorn vibrator, and this may be our favorite out of all 3! 
This throbbing clit stimulator has a lot of power for its size - and it's not very loud, either! This rechargeable Unihorn Heart Throb has 20 mix-and-match pleasure settings, is splash-proof, and made of supple hypoallergenic silicone. It fits in the palm of your hand and provides a great amount of coverage on the clitoris, testicles, taint or nipples during use.  
Shop all 3 Unihorn clit vibrator by clicking HERE!