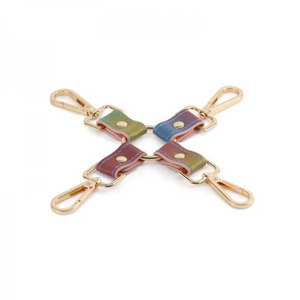 Spectra Holographic Rainbow Vegan Leather 4-Way Hogtie
Regular price $20.00 Sale
The Spectra Bondage Rainbow Holographic 4-Way Hogtie includes four swivel-snap hooks (lobster clasps) so that you can snap in or out of your wrist and ankle restraints quickly and easily. The swiveling clasp system provides the ability to move a bit in the event that you (or your sub) is squirming!
The middle O-ring connects each arm of the 4-way hogtie, but you can also use it to slip Shibari rope (or other accessories) through as well. Each holographic strap is secured by two durable rivets. 
This mesmerizing holographic material will pop in any kinky accessory collection!
Clasp these onto any ankle or wrist restraints that have an O-ring, or purchase the matching holographic rainbow wrist restraints and ankle cuffs to complete the shimmery set. 

Product Dimensions: 7.48 x 7.48 x 0.39 inches
Materials:
Polyurethane PU Faux Leather
Metal