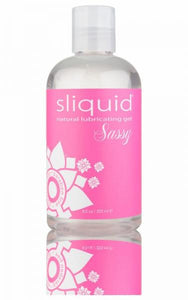 Sliquid Sassy Water-Based Anal Lube
Sliquid Sassy is the best of all worlds! A thicker water-based anal gel, formulated glycerin free and paraben free. It begins with the same ingredients as Sliquid H2O, but is formulated as a thicker gel to provide more padding for anal intercourse. A fantastic option to silicone lube- Sassy can be used with all sex toys. 
Sassy gel is longer-lasting and creates a more enjoyable experience for both partners. The best part: Sassy doesn't include any desensitizing agents, as to ensure the safety of users (and their butts!). 
Uniquely blended to match your body's own natural lubrication.
100% Vegan friendly

Water based and water soluble

Glycerin free and paraben free

Hypoallergenic and non-toxic

Non-staining, unflavored and unscented
Ingredients: Purified H2O, Plant Cellulose from Cotton, Cyamposis Guar Conditioners, Potassium Sorbate, Citric Acid
Available in 2oz., 4.2oz., and 8.5oz.