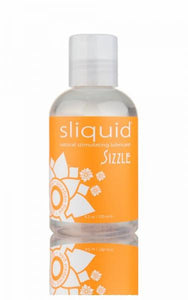 Sliquid Natural 'Sizzle' Water-Based Stimulating Lubricant
Sliquid's stimulating formula, Sizzle, is awesome if you like a little extra sensation from a lube! Formulated with food-grade menthol, Sizzle has a dual-warming and cooling effect at the same time - the best of both worlds. The warming sensation is just enough to heat things up without being too much to handle. Sizzle goes on cool, and warms with friction. All Sliquid products are formulated by sensitive women, for sensible women.
Sliquid lubes contain zero parabens, are formulated by sensitive women for sensitive women, and will never cause yeast infections or UTI's. Uniquely blended to enhance your body's own natural lubrication, all Sliquid lubes are pH-balanced neutral.
Water based & water soluble

Sugar and sugar derivative free

100% vegan friendly

Glycerine-free and paraben-free

Hypoallergenic and non-toxic. Non-staining and lightly scented 
Ingredients: Purified Spring Water, Plant Cellulose from Cotton, Cyamposis Guar Conditioners, Food Grade Menthol, Potassium Sorbate, Citric Acid
Available in 2oz. and 4.2oz.