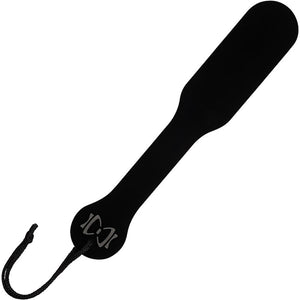 Sincerely Bow Tie Acrylic Spanking Paddle by Sportsheets
Regular price $25.00 Sale
Sleek and sultry, this onyx black acrylic paddle can be deceiving. A quick strike to the buttocks will deliver quite the sting. This sophisticated acrylic bondage paddle features a cute bowtie imprinted on the handle, and is a great addition for those who enjoy intermediate to intense impact play. If you are new to the erotic are of spanking, starting with the widest paddle first is a good way to navigate this type of kinky play. The smaller you go down in size, the more sting you'll feel.  Measuring at 2" wide, this is a pretty narrow paddle. A soft nylon wrist strap allows you to hold it on the wrist during use, and hang it for storage. 
Tips for using a bondage paddle: 

Be sure to sterilize/clean the spanking paddle before and after each use.
Keep your target area limited to fleshy surface areas.
Safety and comfort are important for the submissive partner. Gently massage your partner's skin before and after spanking.
For those looking for maximum stinging sensations, a flat spanking paddle with holes is great. 
Product information:
Paddle Length: 13.5" (34.3 cm)
Width: 2.2" (5.6 cm)
92% acrylic (paddle), 8% nylon (strap)
Use an alcohol wipe to clean the paddle and strap before and after each use
Acrylic paddle will not absorb fluids or bacteria but make sure the strap is thoroughly inspected and cleaned regularly