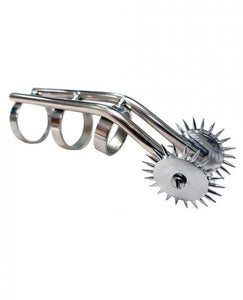 Rouge Cat Claw Pinwheels - Dual Rows
Regular price $30.00 Sale
The Cat Claw Pinwheel is perfect for light to intense sensory play - no experience necessary. It attaches easily to the finger, which allows the wearer to fully control the speed and intensity during foreplay or sex. 
The kinky pinwheel may look intimidating, but it can deliver the most subtle tingles to the skin (or more intense sensations if that is your preference). These pricks are sharp, so please play with caution. 

Two wheels spin 360 degrees and can be used anywhere externally on the body. We recommend the inner arms, backs of the knees, nipples, or any sensitive area.
Why we love it: this simple pinwheel is a creative way to amplify foreplay or outercourse. A fantastic addition to any pleasure collection, and/or upgrade to your Wartenberg Pinwheel. 
Tip: add a blindfold to enhance the physical experience.
Made from stainless steel. 
Measurements::
Total length - 4"
Diameter (finger hole) - 0.87"
To clean, we recommend boiling in hot water to fully sanitize after each use. Pat and ensure the pinwheel is fully dry before storing.