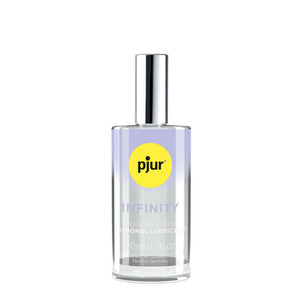 Pjur Infinity Silicone-Based Lubricant
Regular price $35.00 Sale
pjur INFINITY silicone-based is a premium personal lubricant that is perfect for masturbation, sex & massages, leaving your skin feeling silky soft. The formula is free from preservatives and still provides long-lasting lubrication. 
Whether through intimate massages or even more intense penetrative sex - you decide. pjur INIFINITY is the  premium quality pjur lube that we love in gorgeous glass packaging. This silicone-based personal lubricant is safe for use with condoms.
pjur INFINITY Silicone Lube details: 
Can relieve symptoms of vaginal dryness

High level of skin compatibility

Extra-long-lasting lubrication

No preservatives

Dermatologically tested

Made without perfume or added flavors

Not compatible with silicone sex toys
1.7oz bottle.
Ingredients: dimethicone, dimethiconol, cyclopentasiloxane
Dimethiconol - common in serums and gel creams to add hydration, but also as an occlusive. Including it in a formula usually leads to a silky, lightweight texture
In cosmetics and personal care products, dimethicone forms a barrier over the skin or hair, reduces moisture loss, and smooths over bumps and pores. This ingredient is safe for human use and has a low potential for causing any adverse effects.