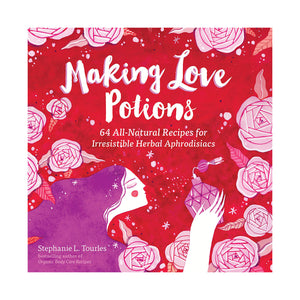 Making Love Potions
Regular price $18.00 Sale
Herbs are hot! And in Making Love Potions, best-selling author Stephanie L. Tourles shows you how to bring that heat into your bedroom!
Tourles playfully pens 64 easy recipes for natural body oils, balms, tonics, bath blends, and sweet treats to share with your special someone.
This celebration of life and pleasure arouses the senses with such irresistible recipes as "Come Hither" Body Powder, Cocoa-Chai "Kiss 'n' Make Up" Lip Butter, and Vanilla Intrigue Massage Oil.
Most recipes use simple, common ingredients, making them both easy and quick to prepare.
With beautiful illustrations and engaging explanations of the power that herbs, flowers, and natural oils have over our physical bodies, Making Love Potions is the perfect gift for herb lovers - and all lovers - everywhere. <3