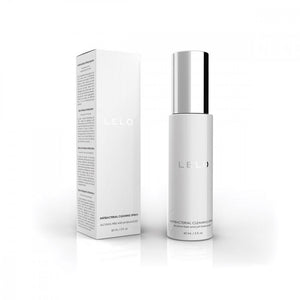 LELO Antibacterial Cleaning Spray (2oz.)
Regular price $10.00 Sale
LELO's Antibacterial Cleaning Spray for sex toys features anti-microbial ingredients, proven to kill 99.9% of all germs, while added zinc salts reduce any chance of skin irritation.
Containing additional anti-viral and anti-fungal properties within a pH-balanced formula, this easy-on spray is one of the safest and most effective choices for sex toys.
FDA monograph compliance ensures LELO's claim of 99.9% germ and bacteria clearance is backed with authority, while the spray's faster and longer-lasting efficacy enables one bottle to go a long way.
This unique toy cleansing fluid is effective enough to be sprayed on and wiped away in seconds, while being safe and gentle enough to be applied to toys before and after each use. Simply spray the surface of the toy, leave on for 5 seconds, and then wipe clean with a lint-free cloth or towel. A 100% body-safe formula means no need to rinse with water.
Suitable for use with silicone, rubber and latex.