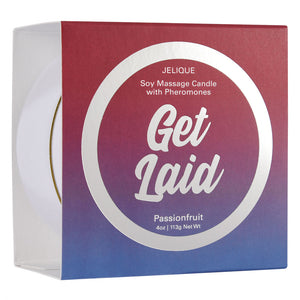 'Get Laid' Vegan Pheromone Massage Candle
Regular price $19.99 Sale
Set the mood during date night with this 'Get Laid' Passion Fruit-scented soy massage oil candle and let the sweet, fragrant oil take over. Formulated with natural soy wax and other natural oils to soothe and soften skin. This oil will not burn your skin - drip slowly for a  romantic, full-body sensory play experience. 
Features
Fragrant Massage Oil infused with pheromones.
Sugar Free.
Paraben Free.
Gluten free.
Vegan friendly.
Not tested on animals.
INGREDIENTS: Coconut Oil, Soybean Oil, Caprylic/Capric Triglyceride, Apricot Kernel Oil, Aloe Barbadenisis, Jojoba Seed Oil, Shea Butter, Tocopheron, Parfum, Copulandrone, Copuline-alike, Reconstituted Andronone