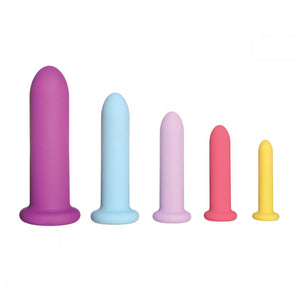 Deluxe Silicone Dilator 5-Piece Set
Regular price $130.00 Sale
The Deluxe Silicone Dilator set comes with five colorful silicone dilators, bringing a pop of color to this sexual wellness product category. 
The comfortable tapered tips of these ultra-soft silicone dilators are designed to provide a comfortable experience during insertion and throughout use. The five graduated sizes allow a natural and effective transition and progression while the large bases add control and leverage. 
Since these non-vibrating silicone dilators have a flared base, they are suitable for anal training as well. 
Measurements
Yellow: 2.83" x .5"
Coral: 3.39" x .75"
Lavender: 3.9" x .87"
Blue: 4.6" x 1"
Orchid: 5.5" x 1.3"
Dilators are used to provide stimulation of natural lubrication, blood flow, and relaxed sexual pleasure. Additionally, a dilator may help with the following:
Muscle atrophy
Pain and/or discomfort during intercourse
Anxiety associated with vaginal penetration
Added comfort during sexual reassignment 
Product details:
Each dilator is crafted from body-safe silicone
For use with water-based and hybrid lubricants only
For more information on how to use a dilator, check out this video.