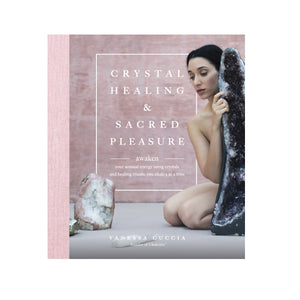 Crystal Healing and Sacred Pleasure by Vanessa Cuccia
Regular price $29.99 Sale
Description:
For anyone who wants to unblock their sexual energy for a deeper sense of intimacy and feel increased sexual pleasure, the ancient practice of crystals may well hold the key.

The flow of energy through our chakras (the "energy centers" of our bodies) is essential to our fundamental well-being and our ability to experience our lives fully. When chakras get blocked, the natural flow of energy is hindered, and we experience disconnection from our physical bodies. Crystal healing can release blockages from lack of attention and self-care of our own well being or from a physical or emotional trauma experienced in the past.

For centuries, crystals have been used as a way of releasing and harmonizing energy. Each crystal has its own unique qualities that are suited to specific kinds of blockages. When used properly, crystals can have a powerfully positive effect on our lives. 

Whether you're new to crystals or experienced with crystal healing, Pleasure Crystals offers all the essential information and techniques you need to get your energy flowing freely again, and open yourself to greater well-being, intimacy, and sexual pleasure.

The book features: 
- A clear introduction to the bodies system of chakras (or energy centers)
- How to tell if a chakra is blocked
- Essential information on crystals and how they work
- Explorations for the inner meaning of love and sexual pleasure
- Specific techniques for using crystals to achieve greater intimacy and pleasure with yourself or with a partner
- An annotated reading list of books, blogs, and websites to support you as you continue to on the path of crystal healing.
-----
Casey's Review
This book isn't just a metaphysical encyclopedia, it is a photographic work of art. Like, coffee table book style. However, it is spectacular for so many other reasons.
This book found me at the perfect time, when I was just far enough into my own crystal journey to really connect with the concepts that Vanessa Cuccia explains. She covers everything from the metaphysical properties of crystals, to chakras, to integrating crystals into your self-love/self-pleasure routine. The first practice that I did blew. my. effing. mind, accessing a new level of sexual energy with just a breathing technique and my rose quartz yoni egg. I will save that story for another day, but I will say: If you are drawn to this book in any way, and you are ready to commit, do yourself a favor and read it. 
*Even if* the concept of meditation/crystals/orgasmic manifestation are completely new to you, that is ok. If my skeptic ass can use it, so can anyone.
Savor each page. Let your body and intuition guide you through the transformative activities that Cuccia shares. It is truly a gift. 
If you have read this book, please share your thoughts by leaving a review!