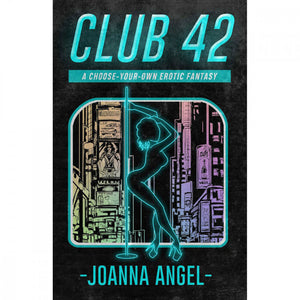 Club 42: A Choose-Your-Own Erotic Fantasy by Joanna Angel
Regular price $18.00 Sale
Our dear friend Joanna Angel has done it all under her Burning Angel empire! An award-winning adult actress, producer, director, and now a published author. 

Plot: Naomi, a proud Brooklyn hipster, finds her life is forever changed when she gets fired from her barista job and wanders into a strip club called Club 42. On a whim, Naomi auditions to become a dancer and what happens next... is up to you!
Join Naomi as she works the day shift at a Manhattan club where patrons sip on carrot juice instead of beer. From learning the art of the lap dance to giving her ex the "extras" in the VIP room, there's more to learn here than she ever learned in college. Should she tell her partner - the dreamy, broke musician who is unofficially squatting in her apartment - about her job, or should she learn to lead a double life between two boroughs? Should she experiment with moonlighting as a Dominatrix, or stay in the strip club and submit to her newest crush, exploring her sexuality and her newfound love for exhibitionism as she twerks her way into a new tax bracket? It's all up to YOU, so grab your stilettos, turn up the early-2000's dance hits, and guide Naomi through this nonstop naked adventure in the city that never sleeps!
Paperback | 347 pages