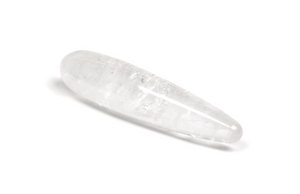 Chakrubs The Prism - Original Clear Quartz Crystal Wand
Regular price $170.00 Sale
The Prism Chakrub is made from clear natural quartz, and well-known as the "Universal Crystal" for its adaptability and varied uses.
Clear quartz is able to enhance energy by absorbing, storing, amplifying, balancing, focusing, and transmitting. It is ideal for programming to use for a particular purpose.
This Chakrub Prism wand is especially beneficial for manifesting, healing, meditation, protection, and channeling. Clear quartz can also be used to cleanse and energize other crystals.
The Prism Chakrub can specifically assist with:
Harmonizing and balancing one's environment

Enhancing clarity and intuition on the spiritual, mental, and physical

Psychic protection and enhancing spiritual wisdom and growth

Clarifying thought processes and emotions and increasing inspiration and creativity

Purifying the auric field

Stimulating the immune system and balancing energies within the body

Regulating, storing, absorbing, and restoring energy as well as dispelling negative energy
The Prism clear quartz massage wand is a sturdy & thick Chakrub crystal sex toy, suitable and pleasurable for intimate massage.
Made from 100% natural rose quartz crystal
Weight: 1 lb
Measures 7" long and 1.67" wide
Circumference: 3.75" small end and 6" large end
100% natural - does not contain chemicals or artificial treatment
Smooth surface
Relieves muscular and emotional tension
To clean, wash your Chakrub with warm water and antibacterial soap before and after use. Additionally, sage can be used to energetically cleanse your Chakrub. 
Choose from either the single Clear Quartz Wand, or the Clear Quartz Wand bundle, which includes one white sage stick for energetic cleansing.
Every Chakrub comes with a soft, plush storage pouch and a wax-sealed letter with care instructions; a love note by the creator Vanessa Cuccia, and tips on how to enjoy the energetic properties of the crystal.
Chakrubs are heavy, smooth, can easily heat up or cool down, are very easy to clean, waterproof, and do not require batteries.
About Chakrubs: 
Chakrubs crystals are sourced from Brazil and Madagascar, hand carved and polished in the Chakrubs lapidary in Jiangsu. Jiangsu is a coastal Chinese province north of Shanghai. 
Because Chakrubs are created from the earth, each product is a unique, one-of-a-kind gift. With proper care, Chakrubs last a lifetime. 
Please note: Color and size variations in The Prism wand may occur because each Chakrub is hand-shaped, made from pure, natural clear quartz. Slight imperfections in the crystal are normal, as they are hand-polished and shaped without dyes or chemicals. All Chakrubs sales are final.