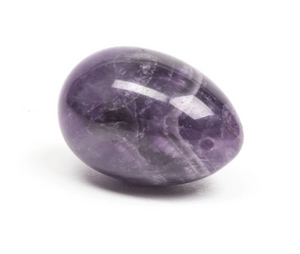 Chakrubs The Amethyst Yoni Egg
Regular price $75.00 Sale
The Chakrubs Amethyst yoni egg is beautifully sculpted from pure amethyst.
Amethyst is a meditative and calming stone which works on the emotional, spiritual, and physical planes to restore calm, balance, patience, and peace.
Amethyst was once used by the Ancient Greeks as a drinking gourd because it was believed to promote sobriety. It remains a useful tool for clarity of mind and identifying and releasing negative patterns or behaviors.
Amethyst contains soothing energies that promote peacefulness and contentment and are ideal for achieving a meditative state. Its gentle aura can also assist in healing from grief or personal loss.
The Amethyst yoni egg can specifically assist with:
Expanding the higher mind during meditation and lucid dreaming

Providing comfort to those who are grieving

Refining the thinking process and enhancing imagination and intuition

Assimilating new ideas and turning thought into action

Cleansing the energetic field of negative attachments and influences

Supporting the emotional body and bringing one back to center

Identifying the root cause of destructive tendencies and behaviors

Connecting to higher self or realms for guidance
The yoni egg practice originated in China over 2,000 years ago and was practiced by the emperor's concubines to maintain a strong and healthy vagina. A regular yoni egg practice can increase awareness of the muscles and abilities of the vagina while building strength in the area. It can lead to increased and more powerful orgasms, a higher sex drive, and improved urinary incontinence. 
100% natural amethyst crystal

Weight: 2 oz

 

Measured Flat: 42mm long and 30mm wide
To clean, wash your Chakrub with warm water and antibacterial soap before and after use. Additionally, sage can be used to energetically cleanse your Chakrub. 
Choose from either the single Amethyst Yoni Egg, or the Yoni Egg bundle, which includes one white sage stick for energetic cleansing.
Every Chakrub comes with a soft, plush storage pouch and a wax-sealed letter with care instructions; a love note by the creator Vanessa Cuccia, and tips on how to enjoy the energetic properties of the crystal.
Chakrubs are heavy, smooth, can easily heat up or cool down, are very easy to clean, waterproof, and do not require batteries.
About Chakrubs: 
Chakrubs crystals are sourced from Brazil and Madagascar, hand carved and polished in the Chakrubs lapidary in Jiangsu. Jiangsu is a coastal Chinese province north of Shanghai. 
Because Chakrubs are created from the earth, each product is a unique, one-of-a-kind gift. With proper care, Chakrubs last a lifetime. 
Please note: Color and size variations in the Amethyst yoni eggs may occur because each Chakrub is hand-shaped, made from pure, natural clear quartz. Slight imperfections in the crystal are normal, as they are hand-polished and shaped without dyes or chemicals.
Each order contains 1 non-drilled Amethyst yoni egg. 
All Chakrubs sales are final.