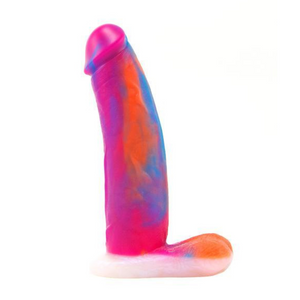 Vixen Creations Bandit Vixskin Tie Bright Realistic Dildo
Regular price $155.00 Sale
Bandit Vixskin Tie Bright the third release in Vixskin series, the Bandit is longer, impressive girth, and sleeker. Designed with slightly smaller, realistic balls that fit nicely in any harness. The Bandit is by far Vixen Creations most realistic dildo to date.

The Bandit is a pure silicone dildo with a satisfyingly thick girth and impressive length. Made from the incredibly realistic Vixskin, a proprietary process from Vixen Creations, the Bandit feels so real you won't be able to stop touching it! Veins and surface textures that look and feel just like the real thing adorn the sexy shaft from the smooth head to the testicles beneath.

Dual density construction gives this dildo a firm core to accent the plushy softness of the surface. Harness compatible, the Bandit also features realistically textured testicles on a flat base, enabling it to stand for solo play. The Bandit is pure silicone and can be boiled to sterilize. Use only water based lubricants with this toy. Bandit features made of the safest 100% Platinum silicone. Durable and luxurious, does not break down or degrade. Warms and retains body heat. Non-porous, can be cleaned with soap and water or sterilized by boiling for 3 minutes. Non-slip base for use with harness. Solid inner core for functional use. Unbeatable warranty. Hand made and designed by knowledgeable and diverse Vixen staff. Made in Austin, Texas.

Measurements:
Total length 7.25"

Width 1.75"
Product details:
Phallic dildo
Harness compatible
Warms and retains body heat
Non-porous, easy to clean
Crafted and designed in Austin, TX
Firm core
Soft surface
Realistically textured testicles
Thick girth and impressive length
Able to stand on flat base for solo play
Solid inner core for functionality

Veins and surface textures
Materials:
Includes