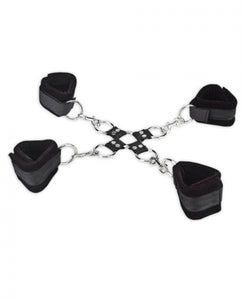 5-Piece Black Hogtie Set
Regular price $30.00 Sale
Perfect for BDSM beginners and intermediate players, the 5 Piece Hogtie Set allows easy and comfortable restraint. This 5-Piece Hogtie Set features four adjustable cuffs attached to a four way central O-ring. Strap your lover's hands and feet into the soft, velvet lined cuffs that secure with Velcro straps and attach the D-rings to the center O-ring to restrict their limbs to the back of their body, leaving them ready for complete submission.
The velvet lined cuffs feel soft against the skin and sensually caress the body, stimulating the senses.
Put your partner in a vulnerable position with hogtied hands and feet or detach the cuffs by unhooking the D-rings and attaching to other restraint systems.
Take full control of your partner while he or she is secured in positions that you never thought possible. Erotic play will never be the same again!