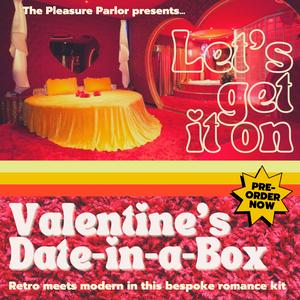 Let's Get It On: Sexy Valentine's Date-in-a-Box for Couples
Regular price $99.00 Sale
Let's Get It On! Valentine's Date-in-a-Box is the Pleasure Parlor's Limited-Edition 2023 Valentine's Day sexy romance kit for couples! - no recurring sex toy subscription required!
Looking for a sexy, one-of-a-kind Valentine's Day gift for your lover? Do you want to take the leap and buy a sex toy for the two of you, but you're overwhelmed at all of the dang options?  Is your bedroom already stocked with sex toys, but you just have no idea what to get your significant other for Valentine's Day? 
The ultra-romantic Let's get it on! box is giving retro like Marvin...

...and modern like Ariana.
What does that mean? This mystery romance kit blend classic intimate ("throwback") items with a trendy twist.  ;-)
This bespoke sex toy bundle for couples is retro meets modern, and comes filled with everything you need for a hot and steamy Valentine's date night, whether you'll be staying nestled under the covers, or hitting the town together.
Just like all of our adult sex toy gift boxes,  Let's Get It On! has been personally curated by our owner, a Certified Sex Educator and pleasure products industry veteran. Creating the most one-of-a-kind sex toy bundles for couples and singles is what we do best! You can't find our style, level of expertise, or this TLC anywhere else!
In case you were wondering, we are are pros at striking that perfect balance between accessible and adventurous, for all bodies and any experience level. 
Bonus! Also included is a card with staff-picked date activities that we dare you to try for Valentine's Day (and beyond). 
Allow us to take the guesswork out of Valentine's Day shopping, and let handpick an assortment of  body-safe products that have been tried, tested and staff approved!
Pre-order is live now and limited quantities are available! Boxes will begin shipping Monday February 8.
Got questions? Feel free to contact us at hello@thepleasureparlor.com.