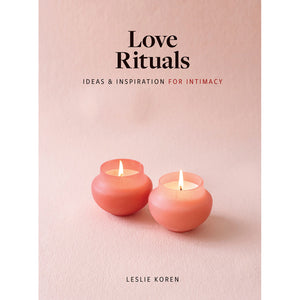 Love Rituals: Ideas & Inspirations for Intimacy
Regular price $12.95 Sale
Love Rituals offers a collection of meaningful ways to enhance your intimate relationships. The book is divided into three chapters: Daily Gestures, Date Nights, and Intimate Encounters.
In Daily Gestures, author Leslie Koren encourages readers to prioritize and appreciate their partners - not just on Valentine's Day or their anniversaries, but each and every day. Maybe you'll deliver a cup of coffee to your spouse in bed each morning, or have cocktail hour with your partner every night after work to catch up with each other and talk about your days.
In Date Nights, she suggests "Yes Day" (where one partner plans the whole agenda, from the breakfast menu to a late-night movie), and going on a trip down memory lane by taking turns telling each other the story of your courtship.
In Intimate Encounters, readers will be encouraged to connect both physically and emotionally, with rituals like eye gazing and giving one another massages.
There are also rituals for vacation, anniversaries, and long-distance relationships.