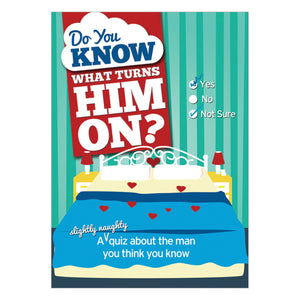 Do You Know What Turns Him On: A Couple's (Naughty) Quiz Book
Do you know what turns him on? Find out how well you know your man with this sassy and sexy quiz for couples.

Sample questions include: On a long weekend together, would he be more turned on by:
Being awakened for a love session in the middle of the night?
Making love first thing in the morning?
Where does he really like to be kissed?
Lips
Ears
Palms
Back of the neck
Sides
Feet
What does he think about quickies?
They can be really, really hot.
Why bother?
After sex, he prefers to fall asleep:
In the spoons position
Snuggled head-to-chest
Close, but not touching
Perfect if you're looking for a fun way to spice up your bedroom adventures...or simply getting to know your partner better (again). 

75 pages.
Find the version for her here.